Erotopathika: Where Taboo Lives and Plays
Carmen Luvana: Wants To Spice Up Your Love Life with Carmen's Fun Cock Lime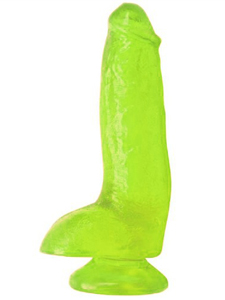 Carmen Luvana
Carmen Luvana

, Our featured

VidStar®

of the week, when it comes to size really likes the average man in toys and

Carmen Luvana

Loves her phallus brite and ready to strap it on! TLC/TopCo asked the Hottie to Pick A Prick for Marketing with Her Name Sake and Carmen's Fun Cock Lime is the dilly dildo that came about! Size does matter and isn't it sweet when such a Lovely specimen of pornoriffic nymphoria like Carmen wants the average man size and girth to represent her cock!. The Valentine celbrations are rolling and wouldn't it be nice for some Lovers of any gender to set the time off real festive lime green with alittle bit of Margarita and Carmen's Fun Cock Lime, your favorite harness or plastic penis handler and you!
for
Carmen's Fun Cock Lime
is
hand picked
by adult film
sensation
Carmen Luvana, this
6.5
candy colored
Jel-Lee®
dong
has
smooth gliding sensations
to
satisfy your cravings
. It is
equipped with
a
penis shaped head
,
balls
and a
harness compatible suction cup base
.
5¼
usable length,
1¾
inches in diameter,
5¾
inches in circumference.

Manufacturer:
TLC/Topco
Will be Our feature VidStar® of The Week!!!